Class F2/Y1S
Spring Term - 2018
TOYS!
We will be starting this half term with an exciting investigation day with a 'What makes the best Toy?' theme. The children will be participating in lots of exciting investigations and hands on construction.
This term we will also be celebrating science week, where the children will enjoy lots of messy experiments and learn about bugs and minibeasts.
We'll go on bug hunts in the school Wild Area, search for these minibeasts, hiding in darkened nooks and crevices. Can we count their legs & wings? Can we classify, draw and make them?
We will be taking part in lots of exciting activities such as; baking, sewing, creative activities, retelling stories in our outdoor woodland area and taking part in many creative activities all planned around children's interests. We will also be inviting you to a parent's assembly where the children will share their current learning and achievements.
Our home school links continue to be extremely strong! All of our parents are working with their child on their set targets and providing us with information regarding their child's achievements' through their 'homework' books and home learning Celebration displays.
Our Whole School 'In it To Win It' challenge for the children who are; reading at least if not more than 5 times a week and is recorded in their reading records by an adult, homework is handed in on a Thursday and have their PE Kit in school for our Tuesday morning PE session, those children will gain a raffle ticket each week they accomplished these for a chance to win a prize, so please keep reading and supporting your child at home.
We have an open door policy, if you wish to speak to us about anything then please do not hesitate to contact us. Please feel free to leave a comment for us at the bottom our page, where it will be gratefully received, thank you.
Any support, access to books, the internet and trips out will greatly enhance your child's learning experience and engagement in the topics. All seven areas of learning will be covered using this term's themes and following the children's interests.
Mrs Snaith
& Mrs Jackson
Please use the links below to see our Curriculum Map and Information booklet
Toys curriculum map 2018 REC/Y1 .pdf info booklet F2 2017-18.pub
Friday 19th January
Our Weekly Achievers
Well Done!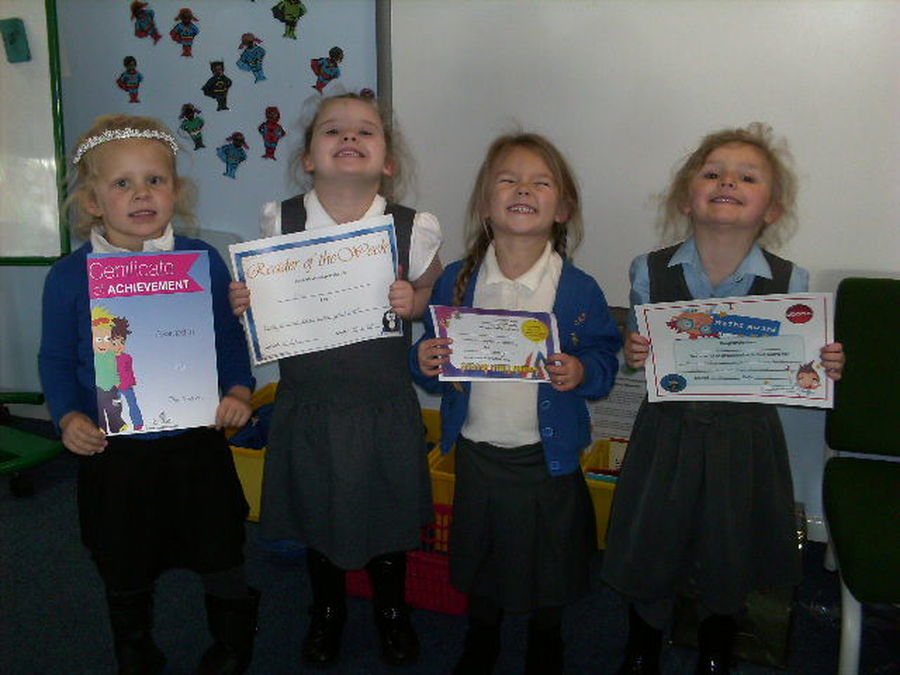 Do fish have fingers?
The children were given the opportunity to investigate different types of fish and to explore whether fish do really have fingers. They enjoyed touching, exploring and labelling fish body parts. By the end of the lesson all the children were able to name the different body parts of a fish and enjoyed some creative activities around fish. They were very brave!!!
Our Christmas Nativity
The Sleepy Shepherd
Song 3 - One Starry Night
Song 4 - Would you like to come with me?
Song 7 - Wake Up Wake Up!
Thursday 26th October
Weekly Achievers
Well Done!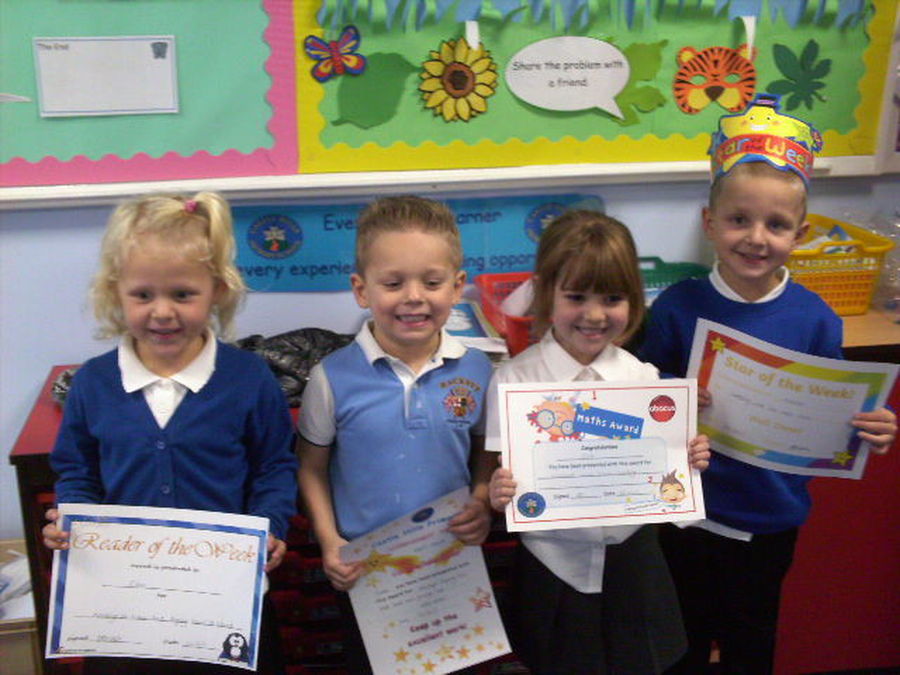 Friday 20th October
Weekly Achievers
Star of the week- Sofia- Amazing work in maths.
Achievemen- Maddison- Trying really hard and making great progress.
Reader of the week- Garcia. - Reading lots at home and completing extra works.
Kai- Lunch time- trying new foods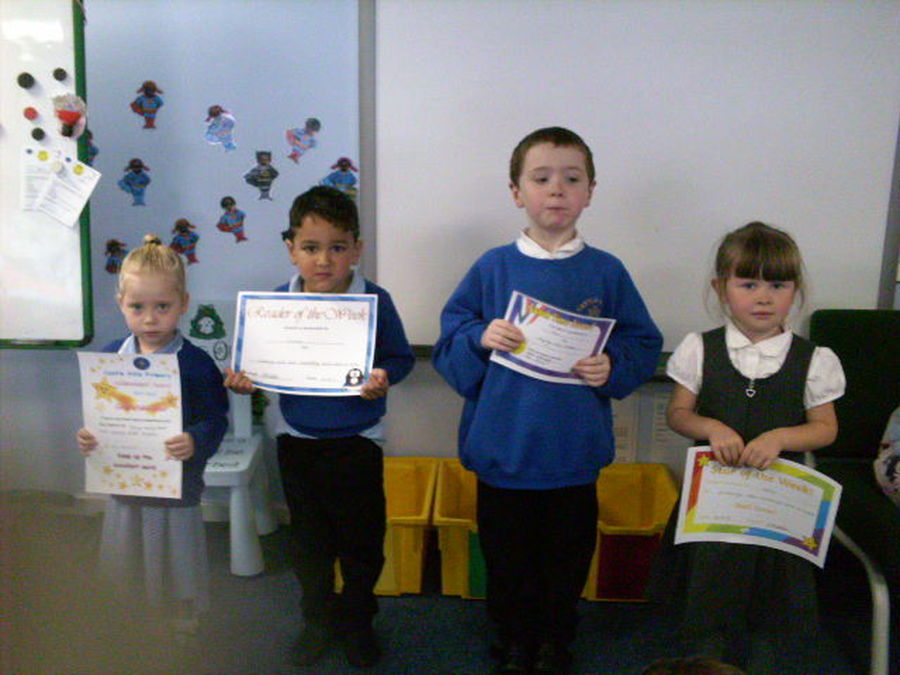 Friday 13th October
Weekly Achievers
Star of the week- Isla- Excelling in phonics.
Reader of the week- Indi-Rae
Achievement-Jack- Showing good focus skills and concentration in class.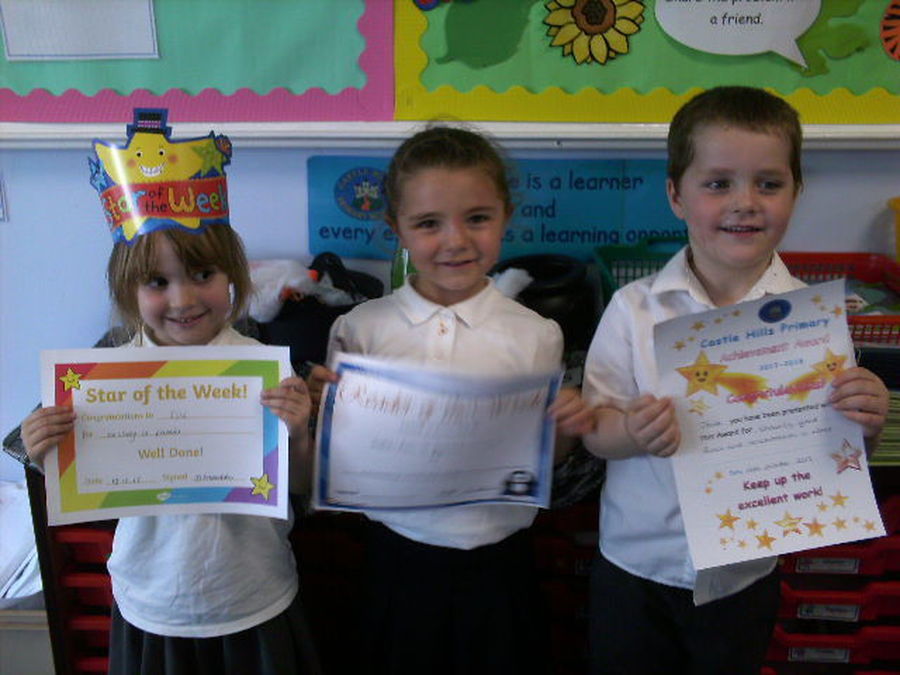 Friday 6th October 2017
Weekly Achievers
Achievement- Ronnie. Been an excellent class role model.
He is a kind and caring member of the class.
Star of the week- Maddison- beautiful handwriting
Reader- Nellie-Anne
Maths- Sophie - recognising numbers to 8.
Friday 29th September
Our weekly Achievers
Lunchtime award- Benjamin - Trying new foods and eating most of his dinner.
Achievement- Tobias For an excellent attitude to learning and trying hard in everything he has done this week.
Star of the week- Liliarner - Keeping focused in class and producing excellent work.
Reader of the week- Maddison- Reading 6 times this week and 8 time last week.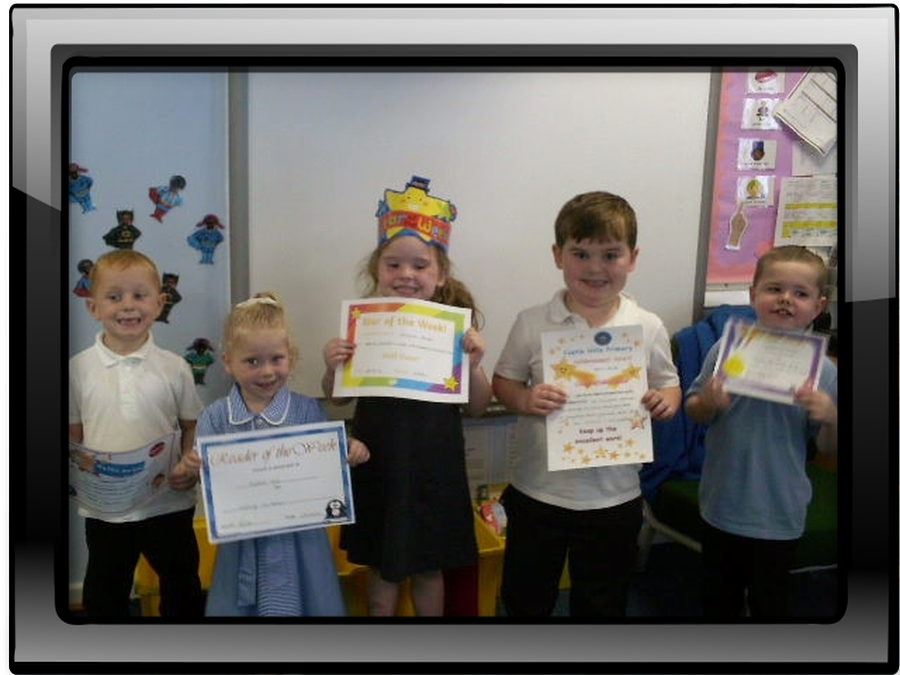 Friday 22nd September
Our Weekly Achievers
Well Done to Edan, Indi, Jackson and Harvey